Change in the time of COVID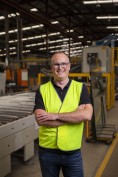 - a manufacturing business perspective.
By Andrew Parker | CEO | Walshs Glass
Like many people, I had my life turned upside down during COVID. I found myself moving back to my hometown of Perth, stepping in to manage our family business – and taking a crash course in the glass industry.
All of this change was underpinned by one of the most chaotic times in our recent history – the COVID19 pandemic.
This time has been a rollercoaster for Walshs Glass. We've battled supply delays, massive increases in shipping costs, labour shortages, local cost increases, one of our competitors collapsing, on top of increases in demand driven by the WA housing boom.
All of this change also comes at a time when our industry is transforming. Driven by both customer preference and legislated standards, the global glass industry has shifted to deliver a focus on new premium and performance products such as coated glass and double glazing, which offer superior environmental and energy performance.
In glass production, a focus on digitisation and automation is rapidly transforming the structure, composition, and sophistication of our production systems. This means our people need to transform as well, upskilling to more digitally focussed roles.
We've embraced the opportunity this change presents and have embarked on an aggressive program of systems modernisation, capital investment, process changes and improvements to our employee experience.
This is a sizeable amount of change - especially for medium-sized businesses like ours, with a long-tenured and committed workforce.
My key insights for anyone going through a business transformation would be:
Source external insight, inspiration and innovation from outside your industry, outside WA and even, in the case of our industry, outside Australia.
Embrace digital. Digitisation is coming to every industry – customer and employee expectations are evolving and setting new standards for service, interaction and communication.
Build a plan and sense check it with external experts, even triangulate that advice if necessary.
Take your team on a journey. Set an inspiring vision of the future, explain the benefits, explain why and reinforce that message to everyone in your organisation.
Communicate, communicate and communicate more – with your leaders, with your team, with your customers, using a variety of channels.
Although the focus on COVID has lessened, I think we'll be feeling the impact on our businesses for many years to come. Now, with less COVID-based obstacles, we need to renew our focus and continue with our transformation.
As we keep looking towards the future, we're grateful for the support of WA Leaders and its members, the insight I've received from you has been invaluable.
Should you require further information please contact via www.walshsglass.com.au | 09 9366 6666
A bit about Andrew
As Executive Director of Walshs Glass, Andrew shares a strong vision for driving the growth future success of this family-owned Western Australian business.
Andrew is a chartered member of the Chartered Institute of Transport and Logistics Australia (CILTA), a member of the Australian Institute of Company Directors, and the International Association of Public Participation (IAP2).
Having held roles on numerous state and local government forums, Andrew was founder and long-term Chairman of Connect Macquarie Park - Australia's leading Transport Management Association, was responsible for the award-winning Optus Sustainable Transport Program, is a previous recipient of CILTA's NSW Young Professional of the Year Award and finalist in GLOBE Melbourne's ANZ Bank 'Excellence in Business' Award.